SERVICES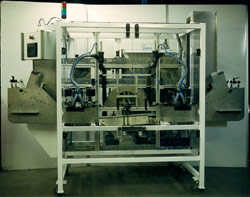 The use of integrated state-of-the-art software for design and management allows us a great flexibility in meeting our mandates. We can develop your project turnkey or on an hourly basis.
Design and manufacturing of custom automated equipment
With our comprehensive approach, we will help you determine the best strategies for your automation needs. Whether it be a robotic assembly cell, a semi-automated assembly line, or a dedicated machine our expertise in automation will ensure the best return on your investment.
Feasibility studies
We can analyze the performance of your equipment and manufacturing facilitiesand suggest improvements that will increase your productivity and competitiveness
Modernization of production equipment
By upgrading your equipment, you can increase your productivity at lower cost. Over the years, Fédico performed many equipment modernizations and production cell reorganizations.
Product Development
Over the years, we have developed several products for the transportation industry. Our pragmatic approach leads us to design products that are easy to manufacture, economical and reliable.
Small and medium sized production runs
The effectiveness of our management tools and quality of our suppliers allow us to effeciently manage small and medium sized production runs and at low cost.
Safeguarding of existing machinery
For the safety of your employees, we can make your machine safe and compliant to CSA Z432.